Marina Agios Nikolaos, Crete. I moor backwards. A gust of wind grabs the ship and lays it across. Helpers pour out of other yachts, staining their white T-shirts with the slime of bog ropes. Five of us moor Reykja at jetty C 4. She will stay here for half a year. It will be the best time of my trip so far.
The Marina Agios Nikolaos is a social organism. It lives. Clear rules, clean sanitary facilities, attentive marineros who walk the piers at night with a flashlight, olive oil and wine as a welcome, pastries at Christmas, white candle at Easter. The marina has room for 250 boats and is full in winter. I renew monthly. Then there are always frowns, supervisors are questioned and in the end I can stay. From October 4 to May 3, 2022.
Social life is shaped by the British. They who have mastered an entire empire have a marina easily under control: hiking on Thursdays, happy hour with a booze-up on Fridays, barbecue on Sundays. In between, small talk on the jetty, birthdays, deaths and baked cinnamon apples on New Year's Eve. These, however, come from the Dutch. Belgians and Finns spend the winter, a South African, a few Germans, even fewer Swiss.

Hiking instead of sailing
My sea voyage turns into a hiking trip. The hiking group on Thursdays helps me to find my way. A Finn sends me her GPS files. Slowly I can estimate topography, hiking length, altitude and plan my own tours. Every other week or so I rent a car and walk. Often it is a day trip, with an overnight stay on the boat. Then again weeks without a car: repairing, reading, lazing around.
The landscape around Agios Nikolaos is spectacular. Mountains rise up to 2100 meters from the coast. There are forests with centuries-old holm oaks and cypresses. Gorges from easy to difficult, with running water and without. Wild stretches of coast. Stalactite caves. Minoan settlement remains.
From December on it rains. Grass sprouts, bulbous plants stink, from February it begins to bloom. Winter is like constant April. All seasons are daily in the sky, storm and snow, showers and sun.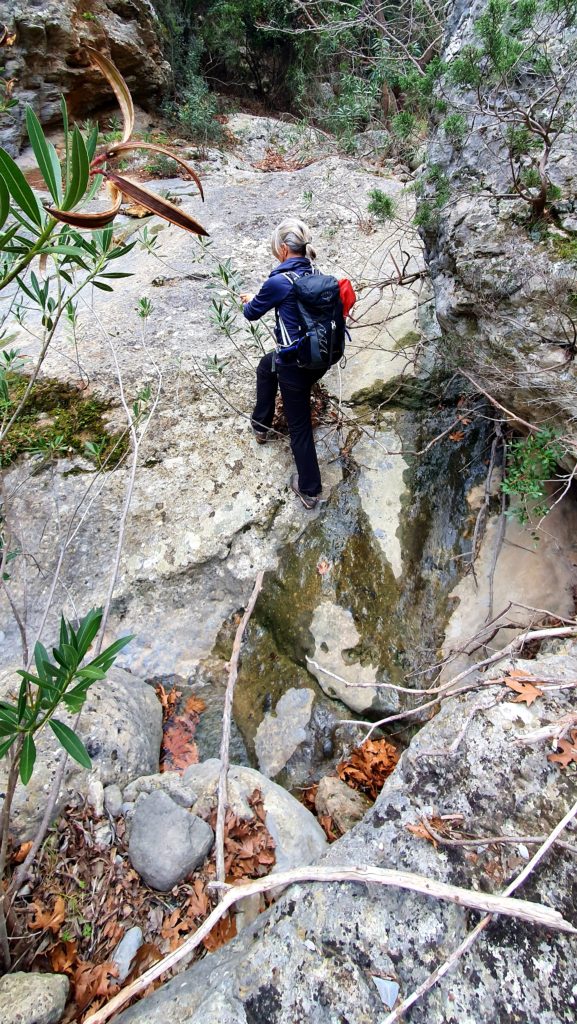 Repairing and reading
There are new acquisitions on the boat. Metalworker Roger from Heraklion welds a 95 cm high stainless steel railing amidships – a fabulous safety gain. My rudder quadrant is duplicated, also for safety reasons, new ventilation covers, guide for anchor chain, support for the main boom, and a custummade water collector. The old one was rusted, cooling water splashed into the ship. Roger is a gifted teacher, without any arrogance. I learn a lot. At the end he gives me a puller.
Boat builder Udo contacts Travemünde to have a new forestay installed in my thirty-year-old furling rig. For this he fetches the crane twice. The heater fails and is mended moderately successfully. Electricity fails because the negative pole goes through a defective switch.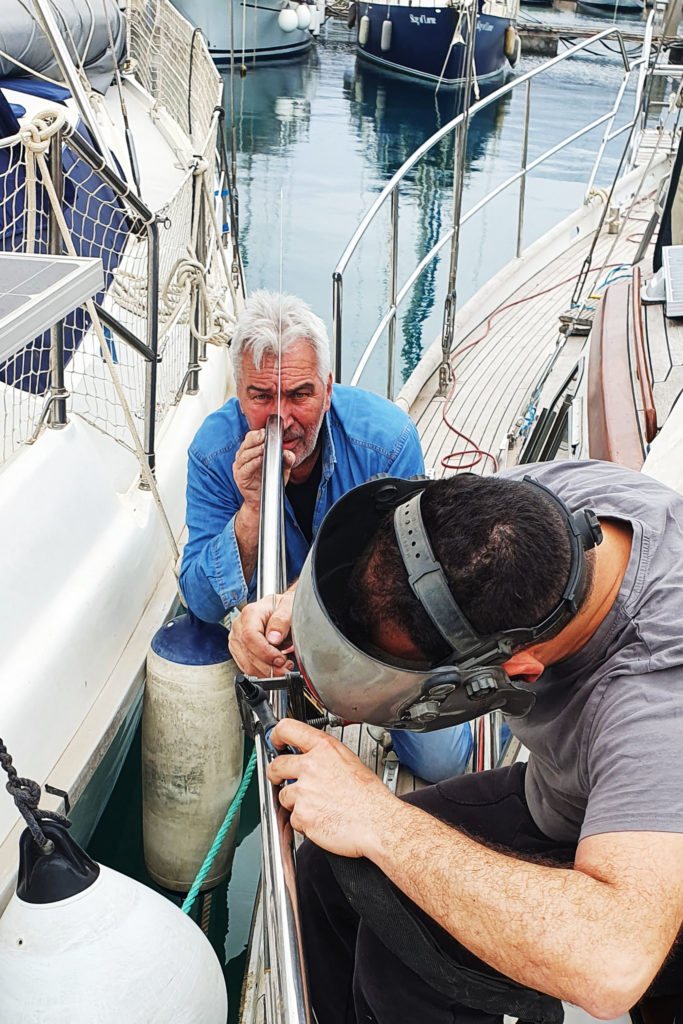 I myself install a seawater filter, calibrate the new compass, mount two solar collectors, ventilators, sunblinds, replace running goods, spackle, paint, saw, drill. And I read.
W. Stanley Moss: Ill met by moonlight. The kidnapping of Wehrmacht General Kreipe from Crete to Alexandria, written by one kidnapper.
The other hijacker later becomes a doyen of travel literature: Artemis Cooper: Patrick Leigh Fermor. An adventure is his biography.
Roderick Beaton: Greece. Biography of a modern nation is a historical outline of the two hundred years of the modern Greek nation.
Daniel Klein: Travels with Epicurus. A Journey to a Greek Island in Search of an Authentic Old Age. The subtitle says it all.
Jonas Grethlein: My Year with Achilles. The Iliad, Death and Life. A classical scholar develops bladder cancer at age 27 and understands Homer's Iliad against this background (in german).
Petros Markaris: Che comitted suicide. Crime fiction set in Athens. The author works describes the social background of this century.
The books help to better understand my often puzzling surroundings. Greeks have experienced more raids, civil wars, slaughters and economic crises in the last hundred years than Central Europeans. Here is the East. Another world. Different neighbors, different religion, different mentality, different survival strategies.
This was a good winter.