All I knew about Menorca was that this place existed. Somewhere. All the more surprising is the encounter with an island where at first they don't want to let me go ashore.
Thursday evening, shortly before five. After the crossing from Mallorca, I radio Ciutadella's marinas. I am met with sheer horror. At 11.99 metres, my ship is too long for our port, says Ports IB. You have to show a Coronatest, says Club Nautico, we haven't received a tourist ship for weeks. Finally, because it's probably closing time at five o'clock, they send me to anchor in Cala Degollador, a narrow bay next to the harbour.
There, the wind freshens the next morning and shifts crosswise. Reykja approaches the side rocks close enough to touch. Panically I haul in the stern and bow anchors, escape the trap, drift in increasingly choppy seas and make one last desperate attempt over the radio. And surprise, surprise: this time Ports IB speaks good English. At first the official scolds me that Corona times are not ment to be the time for tourism. When I suggest I could sail back to Mallorca, he lets me land. There's no more talk of a PCR test, I've been on the neighbouring island for months, and Reykja's length is suddenly fully suitable for the marina.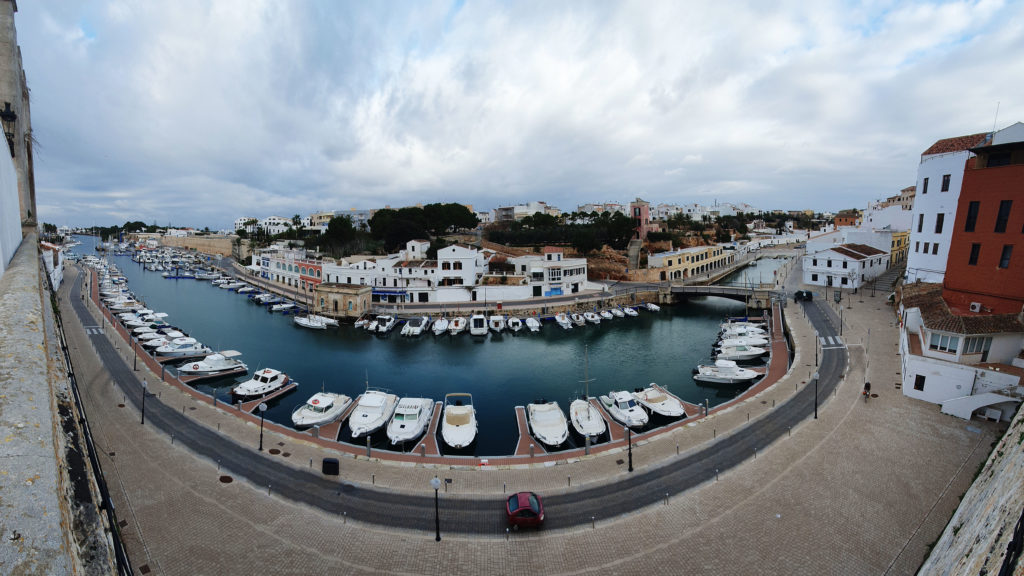 Under stones
A clear feeling: this is the right place for me. It sets in after a few steps in the harbour of Ciutadella and will not leave me again for the following weeks. If Mallorca was a huge, pulsating urban centre for long stretches, Menorca is the full province. Stylish province in Ciutadella: palaces, a Gothic cathedral, two huge squares, old houses, narrow streets. Then, outside the city, lush green, hilly and very stony. Mortarless walls criss-cross endless pastures with cows. A piece of England in the middle of Spain.
For me, Menorca is the island of stones, limestones to be precise. Only two capes, which I later round, are spectacularly made of red slate. The Roman army already employed local Menorcans who could sling stones so effectively. And their ancestors built an entire culture out of stones. For them, the hour of my mountain folding bike has come: around seventy sites of the Talyot megalithic culture on Menorca are known. A journey of discovery begins.
No two sites are alike. Torretrencada: I am amazed at the round ground plans of the stone houses. Everything seems harmonious. Why do our cities consist of corners and edges? Son Catlar: An intact protective wall full of military secrets. There are extra thin places to escape, or to spy on the besieger at night. At the entrance, the wall curves inwards so that it can be shot at from the side by watchtowers. Torrellafuda: A taula under olive trees, standing menhirs as heavy as murder, which no one would lift voluntarily today. Can I understand why people did this three thousand years ago? Today's place has changed. The olive grove did not exist then. The stones were removed and moved by farmers for centuries for their own building projects. Nothing is as it was. And yet: something is there.
At anchor
On the north coast, I anchor at fabulously beautiful beaches, Cala des Algayerens, for example, and in the inlet of Cala Fornells. I can safely weather a day of strong winds with gusts of around 8 Bf on a long chain. The Cala de Addaya praised in the Pilot Guide, on the other hand, seems much too narrow for anchoring in strong easterly winds. Isla Colom in the east offers good protection, but it gets rocky there when the swell comes from the north.