Is there real encounter? Discoveries? Can I travel without being a tourist? As an occasional traveller, I feel like a fool. Strikingly different. Quirky, with endless time on my hands. Is it worth this humilation?
Dominica, Caribbean. I am standing on the arterial road of the capital. At some point a minibus is supposed to come by here somewhere, the island's private public transport, and drive to my mountain village. I have been waiting for an hour. As a white man, with a backpack and hiking boots. Clearly: a tourist.
An empty minibus stops. The driver wants to take me there. How much is it? 80 dollars. I say thanks, but pass. "Ok, 60 dollars". I stick to my no. "There is no minibus to this village", the driver says. Finally she shrugs and leaves me stubborn.
Ten minutes later, the full minibus stops. People scramble together, a religious radio programme preaches gospel against the rattling engine, it smells of people and work. I pay five dollars, as does everyone.
At the arterial road
Is it worth it? No tourist can stand for hours on an arterial road. After all, he or she only has a limited holiday. Marveling at people, cars and motorbikes is not a recognised tourist attraction. You can do that at home, too.
Can you? Do you see school uniforms, rasta hair, oil vapour from two-strokes, raggae rhythms, "Hey man" greetings, cooling shade under dilapidated bamboo at home? I begin to dream on the arterial road, dissolve, perceive. This is not what I was looking for. I was looking for the minibus, but it gives me the arterial road.
Whoever travels learns things that he or she did not know before. These are discoveries in the post-discovery age.
Should I share the discovery on the arterial road with other tourists? How weird would that be! The tourist programme includes cooling waterfalls, hot springs, restaurants and shops. Conversations among tourists tick each other off as to whether one has also been here or there.
With my impressions, I am not able to communicate among tourists. Not even with the bad conscience from the hitchhike back in the dark, because the minibus was already gone. The last driver takes me to the dinghy, where I transfer to my sailing yacht. A yacht-owning white man experiences the solidarity of a black casual worker. I am embarrassed and delighted.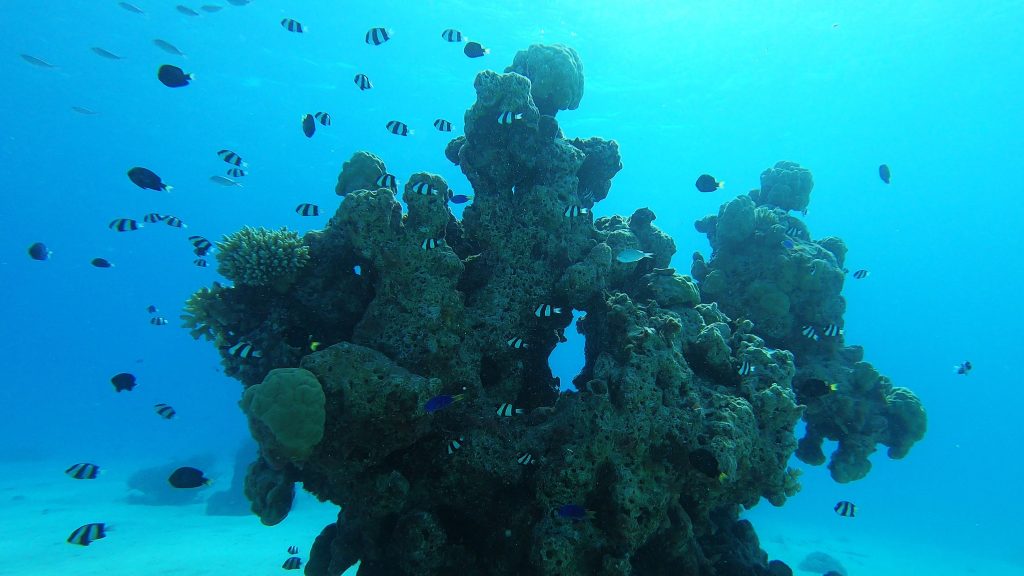 Inside the lagoon
Fakarava Atoll, French Polynesia. I have internet reception and google for places that would be good for snorkelling. Google lists pages and pages of uniform texts: The same dive centres, the same diving and snorkelling spots, the same experiences. Maybe there are "insider tips" somewhere in the depths of the internet, but I can't find them. They are buried by the tourist offer.
I have no other choice: I have to discover the places myself. Consult the sea chart, go into the water, search. I come across bleached reefs, murky water, desolation. Until my vision sharpens and I can better assess which underwater colours and shapes look promising.
Again I need time, hours, or here even days. It is the currency with which the traveller has to grow. The currency in tourism is dollars. In exchange, you don't waste any time and there are experiences that he or she can read about in advance on the internet, easily found on Google.